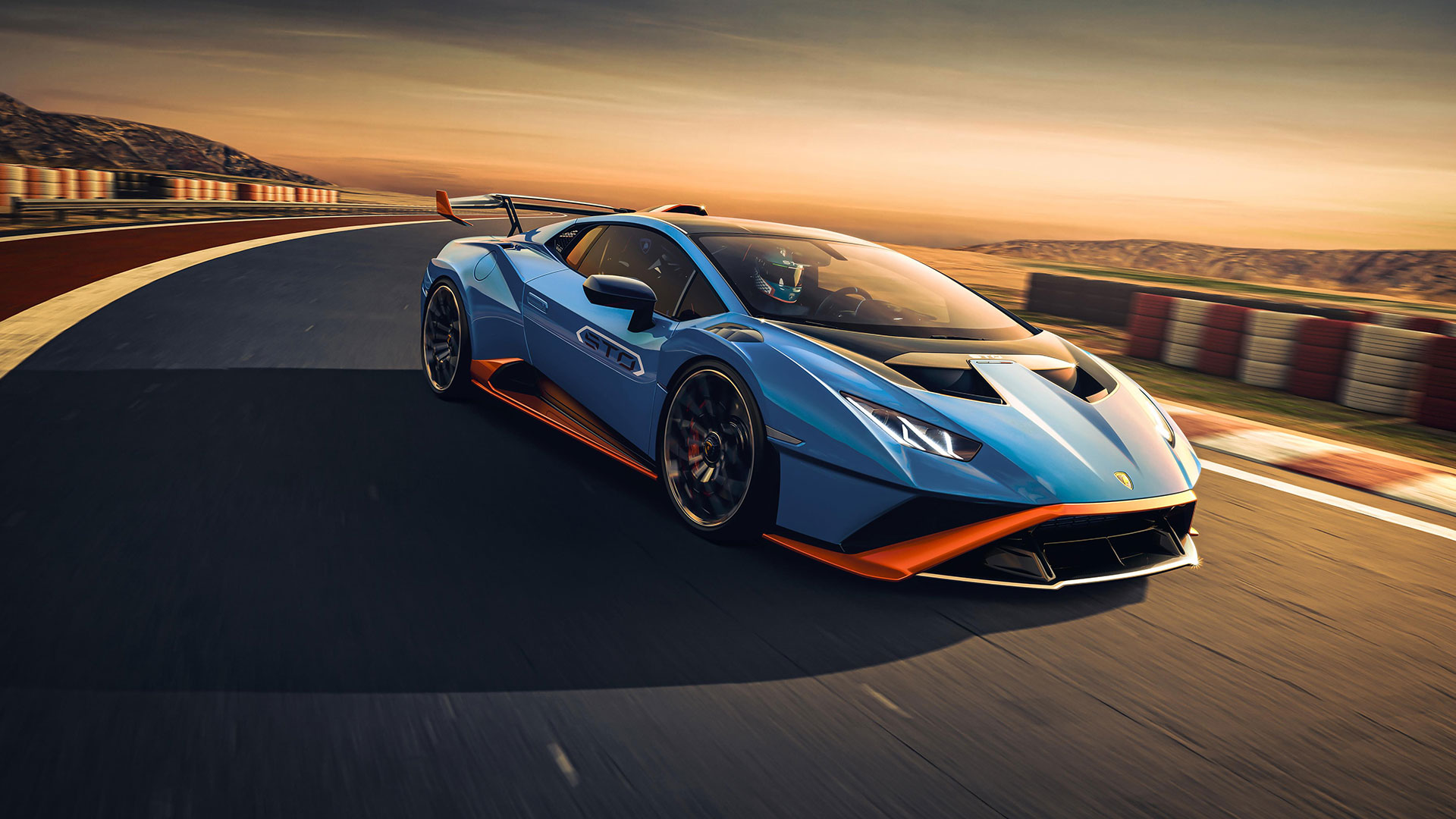 Revuelto
OVERVIEW
Just before the 60th anniversary of the marque, Lamborghini unveiled Revuelto, the first HPEV (High Performance Electrified Vehicle) hybrid super sports car. With the Revuelto, Lamborghini has established a new benchmark in performance, on-board technology, and driving pleasure. The ultimate thrill provided by the Revuelto is reached thanks to a powertrain that delivers 1015 CV total, combining the power of a brand-new 12-cylinder internal combustion engine with three high-density electric motors and a groundbreaking transversal dual clutch e-gearbox. The power of hybridization is harnessed to take performance and driving emotions to an unprecedented level.
EXTERIOR
The Revuelto honors the Lamborghini tradition and ushers in a new era even in its exterior design. While the car's silhouette follows the iconic single center line, the sharply sculpted lines and smooth negative radiuses create a high-tech shape that puts the Revuelto unmistakably in the new generation of Lamborghini supercars. The iconic V12 is celebrated by being on full display in the rear.
INTERIOR
The interior of the Revuelto brings the "Feel Like a Pilot" concept to its utmost expression: simple volumes, symmetry, and a driver-focused approach make the cockpit an empowering station for the driver. The futuristic environment creates a seamless connection between driver and machine, while exclusive hexagon-shaped elements fulfill the dual mission of evoking past models and highlighting brand-new functional features.
FEEL THE ENGINE
Listen to the all-encompassing sound of hybridization technology: the unmistakable roar of the V12 aspirated engine coupled with powerful electric motors. Let yourself be swept away by the strength of the new Lamborghini sound.
CENTRO STILE
The Revuelto combines classic Lamborghini proportions with strong, sculpted lines that promise a new future. Explore a silhouette that embodies confidence, power, strength, and groundbreaking aerodynamics.
*PRICE(S) INCLUDE(S) ALL COSTS TO BE PAID BY A CONSUMER, EXCEPT FOR $497 DOCUMENTATION FEE, LICENSING COST, REGISTRATION FEES, AND TAXES.
CURRENTLY, FC KERBECK DOES NOT SELL OR LEASE CARS IN THE STATES OF MT, OR, NH OR AK, SORRY FOR ANY INCONVENIENCE. FC KERBECK MAKES EVERY EFFORT TO PROVIDE FULL AND ACCURATE INFORMATION. HOWEVER, BECAUSE ERRORS MAY OCCUR, PLEASE CONTACT US TO VERIFY OPTIONS, PRICES AND REBATE/INCENTIVE INFORMATION BEFORE PURCHASING. ALL VEHICLES ARE SUBJECT TO PRIOR SALE. ALL NEW VEHICLE PRICES INCLUDE THE DESTINATION CHARGE (FREIGHT COST). ALL PRICES EXCLUDE STATE TAXES AND FEES, MOTOR VEHICLE REGISTRATION CHARGES, AND PROCESSING FEES. ALL TAXES AND FEES WILL BE PAID TO THE LEGALLY APPROPRIATE STATES. PRICES MAY NOT BE COMBINED WITH ANY OTHER PAST, PRESENT, OR FUTURE OFFERS OR ADVERTISED PROMOTIONS OR SPECIALS. PRIOR SALES, INBOUND AND ORDERED VEHICLES EXCLUDED FROM CURRENT PRICE OFFERS. SALE TO ULTIMATE RETAIL CONSUMER ONLY, ONE VEHICLE PER CUSTOMER. NO SALE OR LEASE TO AUTO DEALERS, DEALER'S AGENTS, MANAGEMENT, SALES STAFF OR EMPLOYEES OF DEALERS, LEASING COMPANIES, BROKERS, EXPORTERS, ETC. NO SALE TO ANY PERSON OR COMPANY APPEARING ON ANY EXPORT LIST OR WHICH HAS THE SAME ADDRESS AS ANY PERSON OR COMPANY APPEARING ON ANY EXPORT LIST. TO THAT SAME END, FC KERBECK RESERVES THE RIGHT, AT ANY POINT DURING A TRANSACTION, TO PREVENT SALE TO ANY PERSON OR COMPANY THAT MAY NOT BE A PERMANENT RESIDENT OF THE US, MAY LIVE OR WORK OUTSIDE OF THE US
We disclose every pre-owned vehicle with a minimum of $1000 prior repairs, when most dealers fail to disclose any/all repairs. Our goal is to provide you with the details of the vehicles history so you can buy with confidence here at Kerbeck.
BBB RATING: A+
HOURS OF OPERATION:
Monday-Friday: 9:00AM - 8:00PM
Saturday: 9:00AM - 6:00PM