Lamborghini Esperienza USA
New York Auto Show: a New Collaboration Between Lamborghini and Pirelli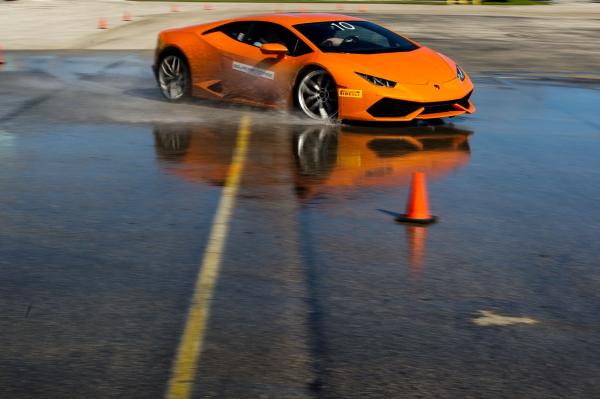 Starting in May, a select few will have the chance to drive a Lamborghini the way it was designed to be driven: introducing the unparalleled Esperienza program.
Appearing in cities across North America, this exclusive event is designed to allow future Lamborghini owners an opportunity to feel the power and performance of this bullish machine in a brand new way.
Upon arrival, guests will be greeted with a decadent breakfast prepared by Lamborghinis chefs. Next, training begins behind the wheel of the raw-power of the Aventador and refined experience with the Huracn. Then, the excitement ramps up as guests experience a series of exercises to develop their skills and prepare for what awaits them in the afternoon . After an exhilarating morning, everyone can catch their breath, mingle over Italian espresso and a gourmet lunch.
The guest will have the opportunity to take the lessons learned from the morning and put them together for full-track lapping around the circuit guided by our team of world-class instructors.
Finally, well celebrate the top performers with an awards ceremony. A suitable ending for a most thrilling day filled with speed, power and legendary luxury.
Locations and Dates
Fontana, CA – May 8-9
Lime Rock, CT – June 12-13
Dallas, TX – October 23-24
Palm Beach International Raceway – December 4-5
The Esperienza is designed for those new to the Lamborghini brand so if you are interested yourself or if you have a friend that youve wanted to bring into the world of Lamborghini this is the perfect introduction to the brand, the people and the cars.
*PRICE(S) INCLUDE(S) ALL COSTS TO BE PAID BY A CONSUMER, EXCEPT FOR $497 DOCUMENTATION FEE, LICENSING COST, REGISTRATION FEES, AND TAXES.
CURRENTLY, FC KERBECK DOES NOT SELL OR LEASE CARS IN THE STATES OF MT, OR, NH OR AK, SORRY FOR ANY INCONVENIENCE. FC KERBECK MAKES EVERY EFFORT TO PROVIDE FULL AND ACCURATE INFORMATION. HOWEVER, BECAUSE ERRORS MAY OCCUR, PLEASE CONTACT US TO VERIFY OPTIONS, PRICES AND REBATE/INCENTIVE INFORMATION BEFORE PURCHASING. ALL VEHICLES ARE SUBJECT TO PRIOR SALE. ALL NEW VEHICLE PRICES INCLUDE THE DESTINATION CHARGE (FREIGHT COST). ALL PRICES EXCLUDE STATE TAXES AND FEES, MOTOR VEHICLE REGISTRATION CHARGES, AND PROCESSING FEES. ALL TAXES AND FEES WILL BE PAID TO THE LEGALLY APPROPRIATE STATES. PRICES MAY NOT BE COMBINED WITH ANY OTHER PAST, PRESENT, OR FUTURE OFFERS OR ADVERTISED PROMOTIONS OR SPECIALS. PRIOR SALES, INBOUND AND ORDERED VEHICLES EXCLUDED FROM CURRENT PRICE OFFERS. SALE TO ULTIMATE RETAIL CONSUMER ONLY, ONE VEHICLE PER CUSTOMER. NO SALE OR LEASE TO AUTO DEALERS, DEALER'S AGENTS, MANAGEMENT, SALES STAFF OR EMPLOYEES OF DEALERS, LEASING COMPANIES, BROKERS, EXPORTERS, ETC. NO SALE TO ANY PERSON OR COMPANY APPEARING ON ANY EXPORT LIST OR WHICH HAS THE SAME ADDRESS AS ANY PERSON OR COMPANY APPEARING ON ANY EXPORT LIST. TO THAT SAME END, FC KERBECK RESERVES THE RIGHT, AT ANY POINT DURING A TRANSACTION, TO PREVENT SALE TO ANY PERSON OR COMPANY THAT MAY NOT BE A PERMANENT RESIDENT OF THE US, MAY LIVE OR WORK OUTSIDE OF THE US
We disclose every pre-owned vehicle with a minimum of $1000 prior repairs, when most dealers fail to disclose any/all repairs. Our goal is to provide you with the details of the vehicles history so you can buy with confidence here at Kerbeck.
BBB RATING: A+
HOURS OF OPERATION:
Monday-Friday: 9:00AM - 8:00PM
Saturday: 9:00AM - 6:00PM