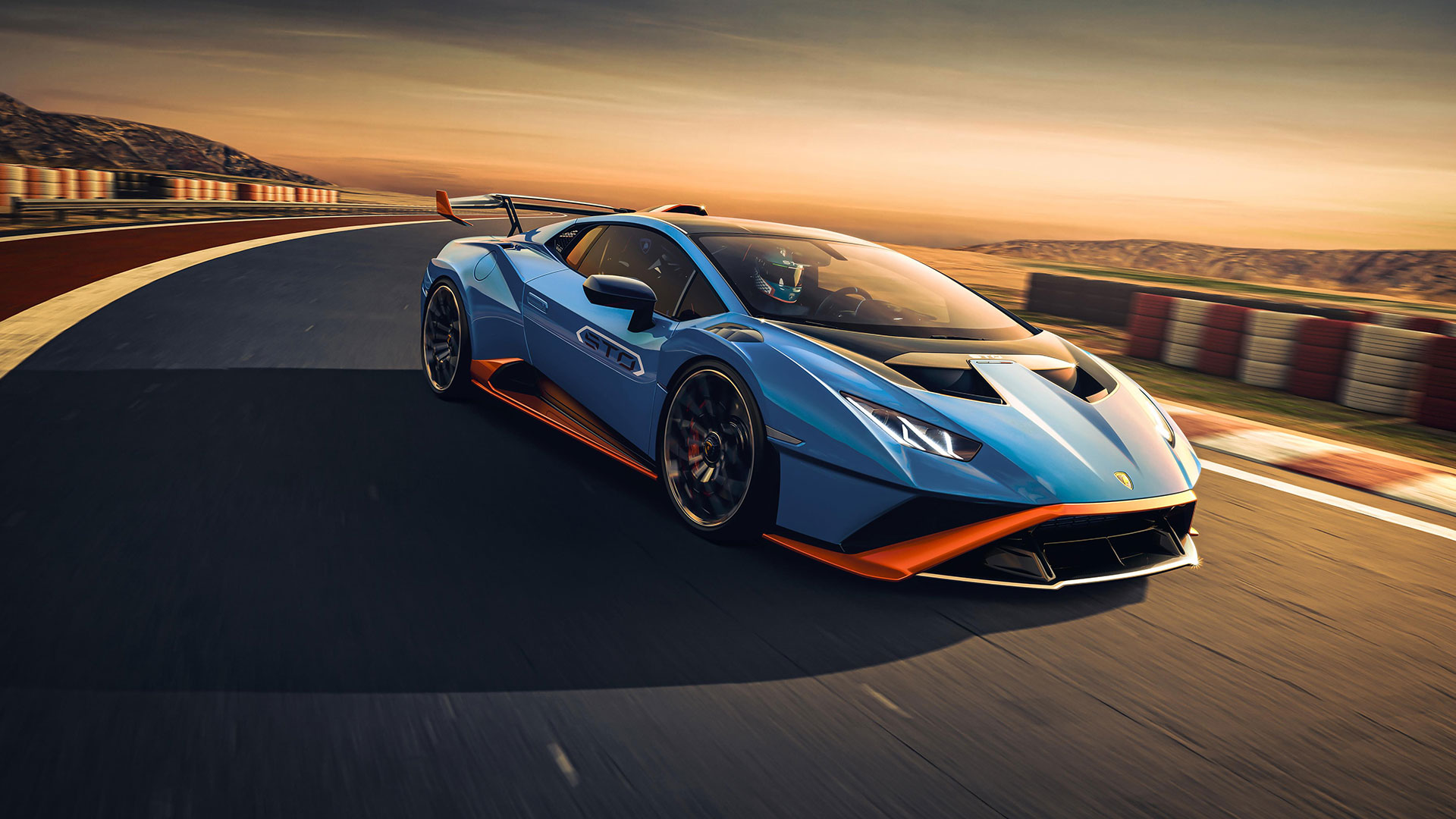 Lamborghini Huracan STO
OVERVIEW
A super-sports car created with a singular purpose, the Huracán STO delivers all the feel and technology of a genuine race car in a road-legal model.
Lamborghini's years-long motorsport know-how, intensified by a winning heritage, is concentrated in the new Huracán STO. Its extreme aerodynamics, track-honed handling dynamics, lightweight contents and the highest-performing V10 engine to date come together, ready to trigger all the emotions of the racetrack in your everyday life.
EXTERIOR
A lightweight approach and functional design combine to express pure performance. While its contours may be reminiscent of the Huracán Super Trofeo EVO, the Huracán STO features a completely revised shape that optimizes the vehicle's aerodynamics, while employing carbon fiber in more than 75% of the body panels. In particular, the Cofango—a specially designed body component that incorporates the front hood and fenders—maximizes frontal aerodynamic performance while saving weight.
The overall effect is an immediate sense of racing excitement.
INTERIOR
The interior features the same track-minded approach, using lightweight, high-quality materials throughout—most notably carbon fiber. Featured in the door panels, interior details, seats and floor mats, this innovative and distinctive material offers a super-sports look that perfectly complements the car's fine Alcantara® and Carbon Skin® finishes for added performance flair and functional style. While recalling the Huracán EVO, the interior solutions of the new Huracán STO contribute to an overall weight reduction compared to the previous model.
FEEL THE ENGINE
Discover the highest-performing, naturally aspirated V10 engine to date. It unleashes 640 CV and roars like a real race car. Racing attitude in pole position.
DRIVING DYNAMICS
Every race car requires extreme aerodynamics and to achieve that level of performance on the new road-legal Huracán STO, Lamborghini has used all its racing experience.One of the features that sets the Huracán STO apart is its state-of-the-art braking system. At its heart is the special CCMR carbon-ceramic brake disc, developed by Brembo and derived from Formula 1 racing. As the mission behind the design of the new Huracán STO is to instill a racing attitude into a street-legal super car, the keyword has always been "lightweight".
*PRICE(S) INCLUDE(S) ALL COSTS TO BE PAID BY A CONSUMER, EXCEPT FOR $497 DOCUMENTATION FEE, LICENSING COST, REGISTRATION FEES, AND TAXES.
CURRENTLY, FC KERBECK DOES NOT SELL OR LEASE CARS IN THE STATES OF MT, OR, NH OR AK, SORRY FOR ANY INCONVENIENCE. FC KERBECK MAKES EVERY EFFORT TO PROVIDE FULL AND ACCURATE INFORMATION. HOWEVER, BECAUSE ERRORS MAY OCCUR, PLEASE CONTACT US TO VERIFY OPTIONS, PRICES AND REBATE/INCENTIVE INFORMATION BEFORE PURCHASING. ALL VEHICLES ARE SUBJECT TO PRIOR SALE. ALL NEW VEHICLE PRICES INCLUDE THE DESTINATION CHARGE (FREIGHT COST). ALL PRICES EXCLUDE STATE TAXES AND FEES, MOTOR VEHICLE REGISTRATION CHARGES, AND PROCESSING FEES. ALL TAXES AND FEES WILL BE PAID TO THE LEGALLY APPROPRIATE STATES. PRICES MAY NOT BE COMBINED WITH ANY OTHER PAST, PRESENT, OR FUTURE OFFERS OR ADVERTISED PROMOTIONS OR SPECIALS. PRIOR SALES, INBOUND AND ORDERED VEHICLES EXCLUDED FROM CURRENT PRICE OFFERS. SALE TO ULTIMATE RETAIL CONSUMER ONLY, ONE VEHICLE PER CUSTOMER. NO SALE OR LEASE TO AUTO DEALERS, DEALER'S AGENTS, MANAGEMENT, SALES STAFF OR EMPLOYEES OF DEALERS, LEASING COMPANIES, BROKERS, EXPORTERS, ETC. NO SALE TO ANY PERSON OR COMPANY APPEARING ON ANY EXPORT LIST OR WHICH HAS THE SAME ADDRESS AS ANY PERSON OR COMPANY APPEARING ON ANY EXPORT LIST. TO THAT SAME END, FC KERBECK RESERVES THE RIGHT, AT ANY POINT DURING A TRANSACTION, TO PREVENT SALE TO ANY PERSON OR COMPANY THAT MAY NOT BE A PERMANENT RESIDENT OF THE US, MAY LIVE OR WORK OUTSIDE OF THE US
We disclose every pre-owned vehicle with a minimum of $1000 prior repairs, when most dealers fail to disclose any/all repairs. Our goal is to provide you with the details of the vehicles history so you can buy with confidence here at Kerbeck.
BBB RATING: A+
HOURS OF OPERATION:
Monday-Friday: 9:00AM - 8:00PM
Saturday: 9:00AM - 6:00PM