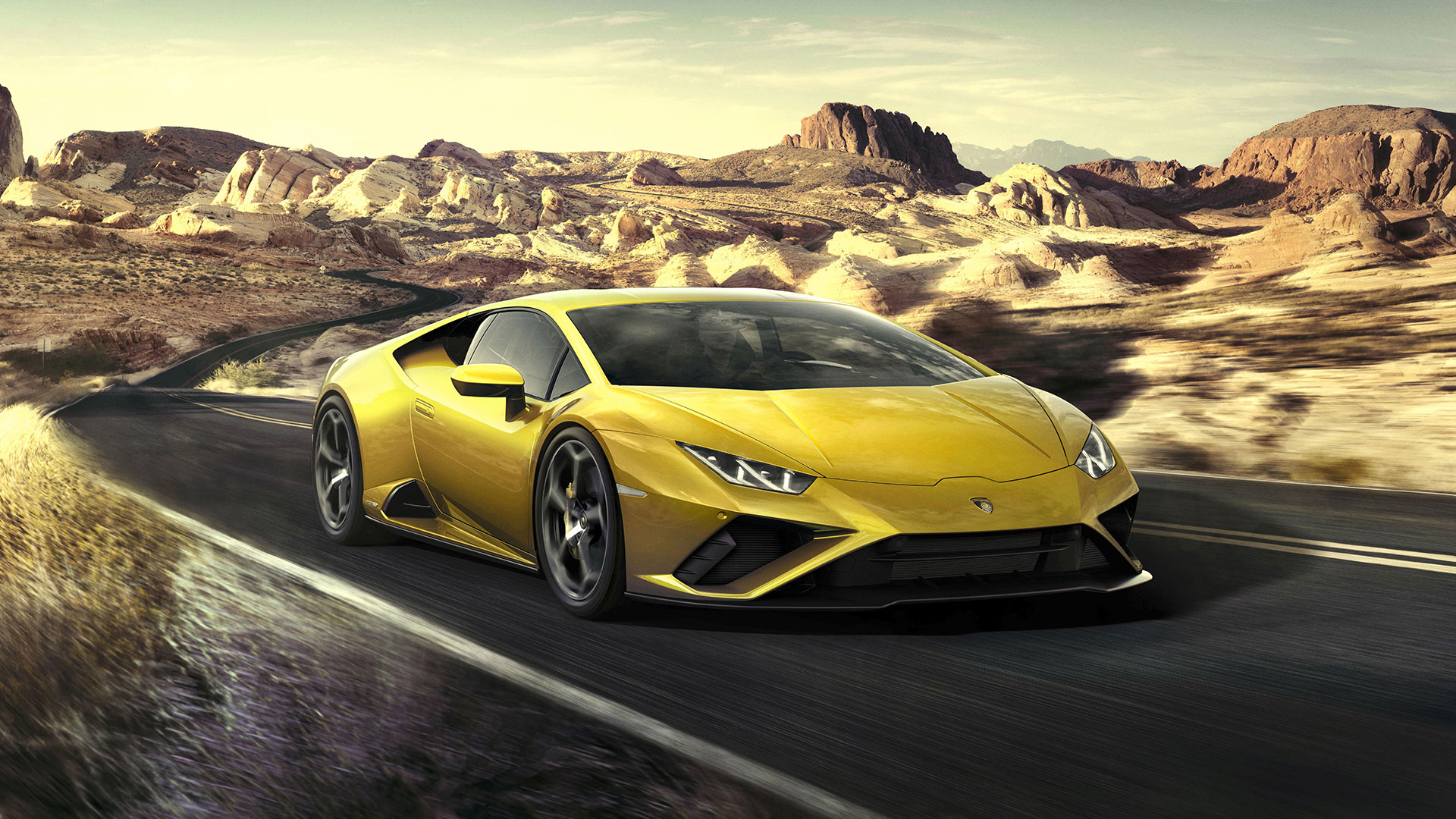 Huracan Evo RWD
OVERVIEW
The Huracán EVO RWD bears the evolution of the predictive technology employed in the best-loved Lamborghini V10 model, distilled to deliver pure, unfiltered driving excitement. Here, driving skills and mechanics make the difference: this "return to rear-wheel drive" embraces the origins of mechanical purity—the true essence of a Lamborghini.
EXTERIOR
Sophisticated aerodynamic solutions meld with iconic Lamborghini design that, in the Huracán EVO RWD, draws inspiration from the head of a shark. The car's lines draw defined paths toward the exterior: the large front air intake is equipped with an improved aerodynamic system, while the new lower rear diffuser is specially designed. The characteristic Y-shaped headlights are integrated into the front splitter and follow the aerodynamic lines.
The Lamborghini driving experience isn't easy to put into words: a stupefying mix of exceptional performance, groundbreaking technology, and perfect aerodynamics. Yet there is one more element that is utterly indispensable for the future we envision: real emotions. The vehicle's impeccable dynamics and the outstanding performance of the new 770 CV naturally-aspirated V12 engine combine with the mastery of a superior design, in which prized and exclusive materials forge a symbiosis with the car's ultra-lightweight body. Because the future we have in mind can only exist when uncompromising aesthetic perfection meets unparalleled performance and thrill-inducing aerodynamics.
INTERIOR
The Huracán EVO RWD is the purest example of connection, of interaction with the machine through physical contact and the senses. Its advanced interior features an 8.4-inch touchscreen system integrated in the center console, offering a sophisticated on-board experience. Leather, Alcantara and Carbon Skin®, an innovative carbon-fiber material available exclusively from Lamborghini, are the available upholstery options.
CONNECT WITH YOUR HURACAN EVI RWD
With the new connected services, the experience on board your Huracán EVO RWD becomes even more enjoyable, remotely as well using the Lamborghini UNICA app. Exclusive comfort, navigation, safety and entertainment features will let you manage your Lamborghini better than ever before.
FEEL THE ENGINE
Listen to the unmistakable 610 hp naturally aspirated V10 engine, and let yourself be carried away by a top speed of 201 mph (325 km/h). Sophisticated aerodynamics and iconic Lamborghini design merge in the lines and angles of Huracán EVO RWD, whose inspiration comes from the shark, a wonder of nature's design. The intent of the Huracán EVO RWD is not simply to direct power to the rear wheels. The Huracan EVO RWD does have some reduced specs in order to keep all that power a little tamer considering it only has two wheels to travel through. It has 610 horsepower and 413 pound-feet of torque. It can achieve a 0-62 mph (0-100 km/h) time of 3.3 seconds and is still capable of top speeds in excess of 202 mph.
PERFORMANCE
Lamborghini's Performance Traction Control System (P-TCS) has been calibrated specifically for the Evo RWD. It delivers torque to the rear wheels even while the car is realigning itself following a drift. You can calibrate how much intervention you want from the P-TCS by flicking the ANIMA button on the steering wheel. Incidentally, ANIMA is both an acronym for Adaptive Network Intelligent Management and the Italian word for soul.
*PRICE(S) INCLUDE(S) ALL COSTS TO BE PAID BY A CONSUMER, EXCEPT FOR LICENSING COST, REGISTRATION FEES, AND TAXES.
CURRENTLY, FC KERBECK DOES NOT SELL OR LEASE CARS IN THE STATES OF MT, OR, NH OR AK, SORRY FOR ANY INCONVENIENCE. FC KERBECK MAKES EVERY EFFORT TO PROVIDE FULL AND ACCURATE INFORMATION. HOWEVER, BECAUSE ERRORS MAY OCCUR, PLEASE CONTACT US TO VERIFY OPTIONS, PRICES AND REBATE/INCENTIVE INFORMATION BEFORE PURCHASING. ALL VEHICLES ARE SUBJECT TO PRIOR SALE. ALL NEW VEHICLE PRICES INCLUDE THE DESTINATION CHARGE (FREIGHT COST). ALL PRICES EXCLUDE STATE TAXES AND FEES, MOTOR VEHICLE REGISTRATION CHARGES, AND PROCESSING FEES. ALL TAXES AND FEES WILL BE PAID TO THE LEGALLY APPROPRIATE STATES. PRICES MAY NOT BE COMBINED WITH ANY OTHER PAST, PRESENT, OR FUTURE OFFERS OR ADVERTISED PROMOTIONS OR SPECIALS. PRIOR SALES, INBOUND AND ORDERED VEHICLES EXCLUDED FROM CURRENT PRICE OFFERS. SALE TO ULTIMATE RETAIL CONSUMER ONLY, ONE VEHICLE PER CUSTOMER. NO SALE OR LEASE TO AUTO DEALERS, DEALER'S AGENTS, MANAGEMENT, SALES STAFF OR EMPLOYEES OF DEALERS, LEASING COMPANIES, BROKERS, EXPORTERS, ETC. NO SALE TO ANY PERSON OR COMPANY APPEARING ON ANY EXPORT LIST OR WHICH HAS THE SAME ADDRESS AS ANY PERSON OR COMPANY APPEARING ON ANY EXPORT LIST. TO THAT SAME END, FC KERBECK RESERVES THE RIGHT, AT ANY POINT DURING A TRANSACTION, TO PREVENT SALE TO ANY PERSON OR COMPANY THAT MAY NOT BE A PERMANENT RESIDENT OF THE US, MAY LIVE OR WORK OUTSIDE OF THE US
We disclose every pre-owned vehicle with a minimum of $1000 prior repairs, when most dealers fail to disclose any/all repairs. Our goal is to provide you with the details of the vehicles history so you can buy with confidence here at Kerbeck.
BBB RATING: A+
HOURS OF OPERATION:
Monday-Friday: 9:00AM - 8:00PM
Saturday: 9:00AM - 6:00PM