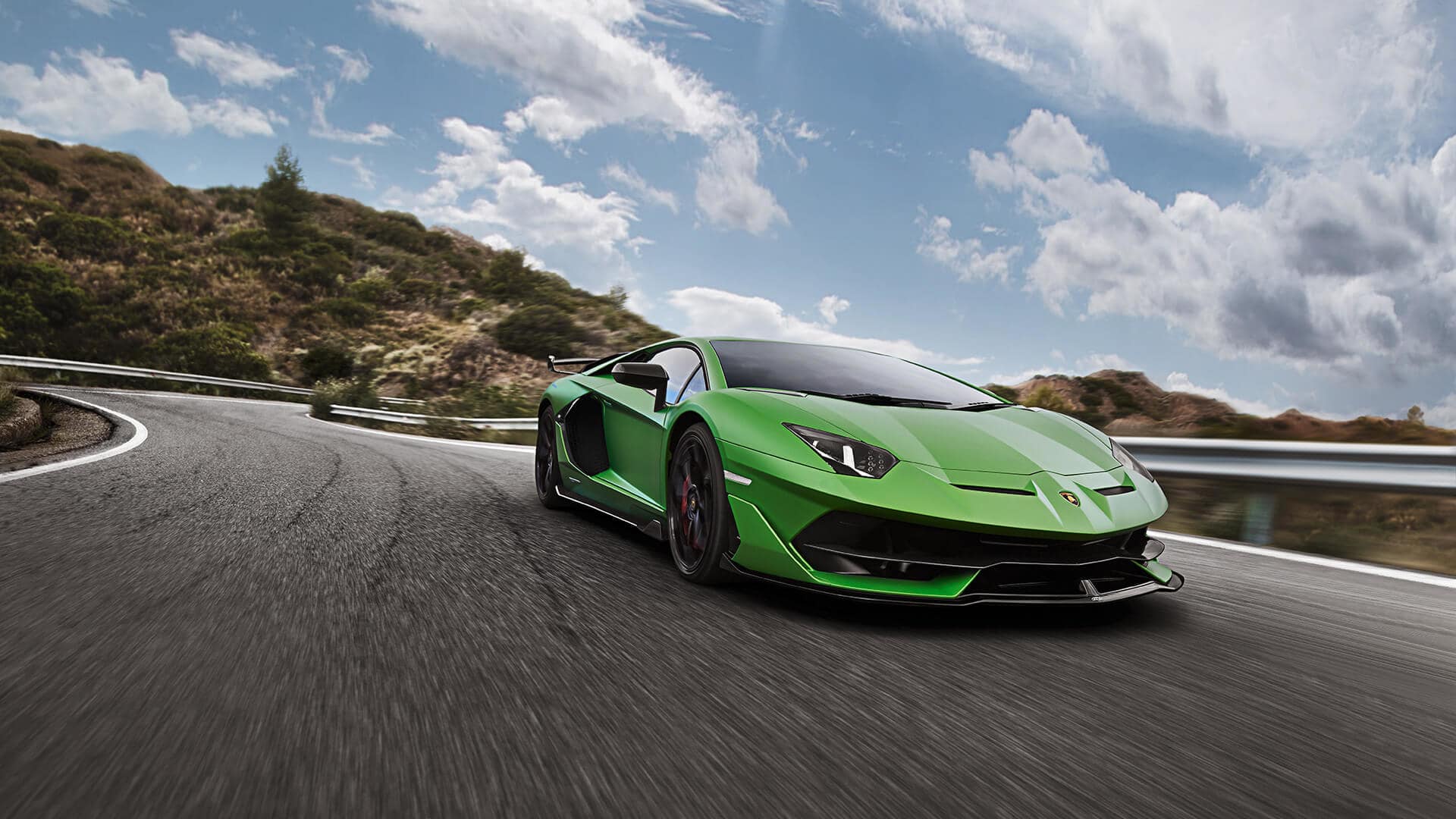 Aventador SVJ
OVERVIEW
Lamborghini created the Aventador SVJ to embrace challenges head-on, combining cutting-edge technology with extraordinary design, while always refusing to compromise. In a future driven by technology, it's easy to lose the genuine thrill of driving. But in the future shaped by Lamborghini, this won't be left behind, because there will always be a driver behind the wheel.
The future is unknown. It is a journey, an adventure. And above all, it is a challenge. Lamborghini has never shied away from challenges, which is precisely why it created the new Aventador SVJ. To combine cutting-edge technology with extraordinary design, without ever coming to compromises. In a future driven by technology, it's easy to lose track of emotions. But in the future we are shaping, real emotions won't be left behind. Because at the wheel, there will always be a person.Aventador SVJ. Real emotions shape the future.
EMOTION
The Lamborghini driving experience isn't easy to put into words: a stupefying mix of exceptional performance, groundbreaking technology, and perfect aerodynamics. Yet there is one more element that is utterly indispensable for the future we envision: real emotions. The vehicle's impeccable dynamics and the outstanding performance of the new 770 CV naturally-aspirated V12 engine combine with the mastery of a superior design, in which prized and exclusive materials forge a symbiosis with the car's ultra-lightweight body. Because the future we have in mind can only exist when uncompromising aesthetic perfection meets unparalleled performance and thrill-inducing aerodynamics.
EXTERIOR DESIGN
Ultra-lightweight materials conceived for maximum performance give rise to breathtaking design: thats what makes the new Aventador SVJ unique and unrivaled. Enhanced aerodynamic profiles, a fully redesigned front, larger side skirts, the omega-shaped rear wing and lighter, higher exhaust outlets are implanted into the featherlight carbon fiber chassis, which is equipped with wisely-distributed air intakes that are both different and larger than on any previous model. Lightness and performance in constant pursuit of each other. With its unique colour and trim, the SVJ 63 special edition emphasizes the abundance of carbon fiber in the design. This limited edition of only 63 vehicles was produced to mark Lamborghinis founding year of 1963. Watch the images of the Aventador SVJ 63 in the gallery.
INTERIOR
The technological look of carbon fiber featured in the monocoque which forms the cockpit and recurring in the doors, seats, central tunnel and console coexists with a design of clear aeronautical inspiration, while the leather and Alcantara® upholstery add a boldly exclusive touch to the luxurious interiors. Finally, the exquisite cross-stitching details and notable presence of the SVJ internal plate confer a truly unique character to this new gem of engineering and highly-refined aesthetics.
DRIVING DYNAMICS
Each of the systems at work inside Lamborghini vehicles is a masterpiece of engineering and technology. And the Aventador SVJ is the first Lamborghini to incorporate all the best technologies ever developed by the company. The lateral vehicle dynamics is controlled by a steering system that acts on all four wheels via Lamborghini Dynamic Steering (LDS) and Lamborghini Rear-wheel Steering (LRS), aided by the use of active torque distribution between the front and rear axles (4WD) and aero torque vectoring (ALA). The vertical vehicle dynamics is managed by the Lamborghini Magneto-rheological suspension (LMS) and the active aerodynamics.
ENGINE
Listen to the 770 CV naturally aspirated V12 engine waiting to be tamed. Capable of speeds greater than 217 mph (350 km/h), the super sports car's performance delivers driving emotions never before experienced.
The indomitable V12 engine of Aventador SVJ stands out for its exceptional design and the advanced technology of its materials. Boasting 770 CV at 8,500 RPMs, and capable of accelerating from 0-100 km/h in 2.8 seconds, Aventador SVJ provides thrills, unlike anything that has ever been experienced before.
ALA
Lamborghinis patented ALA system has been developed to an enhanced level for the Aventador SVJ, now the ALA 2.0, including new optimized air inlet and aero channel designs. The system has been re-calibrated taking into account the enhanced vehicle's lateral accelerations. The ALA system actively varies aero load to achieve high downforce or low drag, depending on dynamic conditions. Electronically-actuated motors open or close active flaps in the front splitter and on the engine bonnet that steers the air-flow, front and rear.
SUSPENSION
The new Aventador SVJ features magneto-rheological front and rear shock absorbers with a pushrod system, which constantly modifies the behavior of the suspensions according to the road conditions and the driving mode selected. In addition to compensating for roll and undesired movements of the vehicle's body, the system was designed specifically to work in concert with the Rear-wheel Steering, thus ensuring a perfect response in any type of condition and allowing ALA to maximize efficiency and downforce, maintaining a constant aerodynamic flow between the bottom of the vehicle and the ground.
STEERING SYSTEM
The new Aventador SVJ offers a unique combination of the active steering system (Lamborghini Dynamic Steering) and the rear steering system (Lamborghini Rear-wheel Steering), ensuring top-of-the-line dynamic performance.
TRANSMISSION
The ISR (Independent Shifting Rods) transmission ensures amazingly fast and exciting gear shifts. The design goal was simple: to create an extremely fast robotized transmission, capable of generating unique driving thrills. The ISR gearbox also offers two crucial advantages for the realization of a super sports car: extremely low weight and a size even smaller than a manual gearbox.
MONOCOQUE
The use of carbon fiber and its derivatives is among the characteristics that give the Aventador SVJ, entirely manufactured at Lamborghini's plant in Sant'Agata Bolognese, its phenomenal driving precision. The monocoque of the Aventador SVJ offers incredible weight reductions and, at the same time, unprecedented rigidity.
*PRICE(S) INCLUDE(S) ALL COSTS TO BE PAID BY A CONSUMER, EXCEPT FOR LICENSING COST, REGISTRATION FEES, AND TAXES.
CURRENTLY, FC KERBECK DOES NOT SELL OR LEASE CARS IN THE STATES OF MT, OR, NH OR AK, SORRY FOR ANY INCONVENIENCE. FC KERBECK MAKES EVERY EFFORT TO PROVIDE FULL AND ACCURATE INFORMATION. HOWEVER, BECAUSE ERRORS MAY OCCUR, PLEASE CONTACT US TO VERIFY OPTIONS, PRICES AND REBATE/INCENTIVE INFORMATION BEFORE PURCHASING. ALL VEHICLES ARE SUBJECT TO PRIOR SALE. ALL NEW VEHICLE PRICES INCLUDE THE DESTINATION CHARGE (FREIGHT COST). ALL PRICES EXCLUDE STATE TAXES AND FEES, MOTOR VEHICLE REGISTRATION CHARGES, AND PROCESSING FEES. ALL TAXES AND FEES WILL BE PAID TO THE LEGALLY APPROPRIATE STATES. PRICES MAY NOT BE COMBINED WITH ANY OTHER PAST, PRESENT, OR FUTURE OFFERS OR ADVERTISED PROMOTIONS OR SPECIALS. PRIOR SALES, INBOUND AND ORDERED VEHICLES EXCLUDED FROM CURRENT PRICE OFFERS. SALE TO ULTIMATE RETAIL CONSUMER ONLY, ONE VEHICLE PER CUSTOMER. NO SALE OR LEASE TO AUTO DEALERS, DEALER'S AGENTS, MANAGEMENT, SALES STAFF OR EMPLOYEES OF DEALERS, LEASING COMPANIES, BROKERS, EXPORTERS, ETC. NO SALE TO ANY PERSON OR COMPANY APPEARING ON ANY EXPORT LIST OR WHICH HAS THE SAME ADDRESS AS ANY PERSON OR COMPANY APPEARING ON ANY EXPORT LIST. TO THAT SAME END, FC KERBECK RESERVES THE RIGHT, AT ANY POINT DURING A TRANSACTION, TO PREVENT SALE TO ANY PERSON OR COMPANY THAT MAY NOT BE A PERMANENT RESIDENT OF THE US, MAY LIVE OR WORK OUTSIDE OF THE US
We disclose every pre-owned vehicle with a minimum of $1000 prior repairs, when most dealers fail to disclose any/all repairs. Our goal is to provide you with the details of the vehicles history so you can buy with confidence here at Kerbeck.
BBB RATING: A+
HOURS OF OPERATION:
Monday-Friday: 9:00AM - 8:00PM
Saturday: 9:00AM - 6:00PM