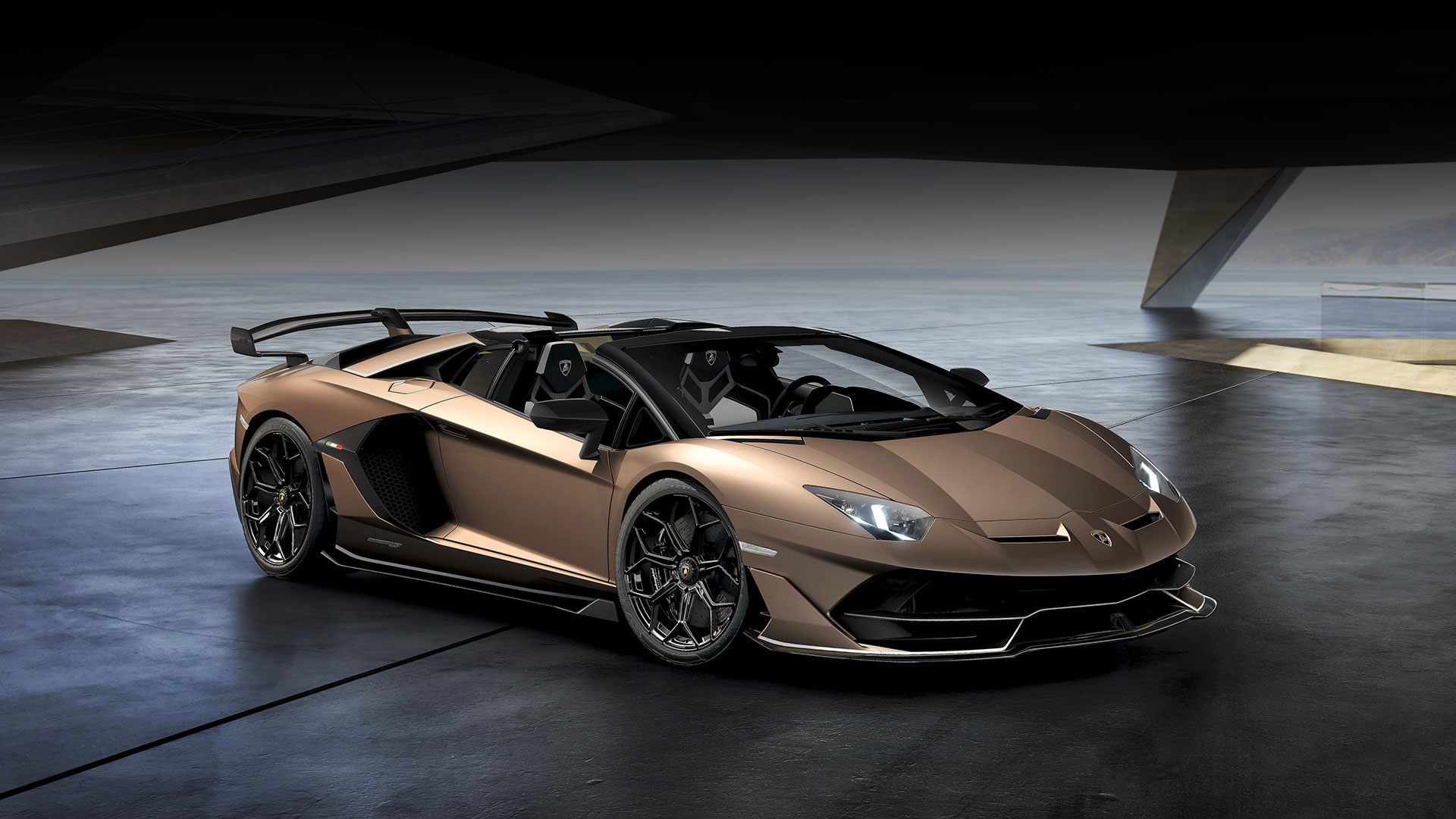 Aventador SVJ Roadster
OVERVIEW
Limited to a mere 800 examples, the SVJ Roadster is the most iconic form of the Aventador family. Its Lamborghini aerodynamics represent the most futuristic ever designed: the ALA 2.0 system and aero-vectoring ensure the minimum drag on straightaways and the optimal aerodynamic load when cornering. The 770 hp naturally aspirated V12 engine inspires awe.
EXTERIOR
The SVJ Roadster uses ultra-light carbon fiber for its bodywork and rigid removable roof. The body features larger air intakes and more extended side skirts, accentuated aerodynamic profiles and a lighter exhaust system mounted higher up. The rigid roof is made using an innovative, high-pressure RTM molding technology.
INTERIOR
The technological look of carbon fiber, featured in the monocoque as well as the doors, seats, center tunnel and console, coexists with a design of clear aeronautical inspiration, while the leather and Alcantara upholstery adds a bold touch of exclusivity to the luxurious interior. But it is the refined details of the cross-stitching and special SVJ Roadster plaque that confer a truly unique character to this remarkable automobile.
FEEL THE ENGINE
Listen to the 770 hp naturally aspirated V12 engine. Imagine the roar of the Aventador SVJ Roadster merging with that of the wind as the car reaches 217 mph (350 km/h)—an experience of pure adrenaline and unfettered joy.
DRIVING DYNAMICS
Patented by Lamborghini, the ALA system is optimized for the Aventador SVJ Roadster and is now known as ALA 2.0, which includes new air intake and aero-channel designs. The system has been recalibrated, taking into account the enhanced lateral acceleration of the vehicle.
*PRICE(S) INCLUDE(S) ALL COSTS TO BE PAID BY A CONSUMER, EXCEPT FOR LICENSING COST, REGISTRATION FEES, AND TAXES.
CURRENTLY, FC KERBECK DOES NOT SELL OR LEASE CARS IN THE STATES OF MT, OR, NH OR AK, SORRY FOR ANY INCONVENIENCE. FC KERBECK MAKES EVERY EFFORT TO PROVIDE FULL AND ACCURATE INFORMATION. HOWEVER, BECAUSE ERRORS MAY OCCUR, PLEASE CONTACT US TO VERIFY OPTIONS, PRICES AND REBATE/INCENTIVE INFORMATION BEFORE PURCHASING. ALL VEHICLES ARE SUBJECT TO PRIOR SALE. ALL NEW VEHICLE PRICES INCLUDE THE DESTINATION CHARGE (FREIGHT COST). ALL PRICES EXCLUDE STATE TAXES AND FEES, MOTOR VEHICLE REGISTRATION CHARGES, AND PROCESSING FEES. ALL TAXES AND FEES WILL BE PAID TO THE LEGALLY APPROPRIATE STATES. PRICES MAY NOT BE COMBINED WITH ANY OTHER PAST, PRESENT, OR FUTURE OFFERS OR ADVERTISED PROMOTIONS OR SPECIALS. PRIOR SALES, INBOUND AND ORDERED VEHICLES EXCLUDED FROM CURRENT PRICE OFFERS. SALE TO ULTIMATE RETAIL CONSUMER ONLY, ONE VEHICLE PER CUSTOMER. NO SALE OR LEASE TO AUTO DEALERS, DEALER'S AGENTS, MANAGEMENT, SALES STAFF OR EMPLOYEES OF DEALERS, LEASING COMPANIES, BROKERS, EXPORTERS, ETC. NO SALE TO ANY PERSON OR COMPANY APPEARING ON ANY EXPORT LIST OR WHICH HAS THE SAME ADDRESS AS ANY PERSON OR COMPANY APPEARING ON ANY EXPORT LIST. TO THAT SAME END, FC KERBECK RESERVES THE RIGHT, AT ANY POINT DURING A TRANSACTION, TO PREVENT SALE TO ANY PERSON OR COMPANY THAT MAY NOT BE A PERMANENT RESIDENT OF THE US, MAY LIVE OR WORK OUTSIDE OF THE US
We disclose every pre-owned vehicle with a minimum of $1000 prior repairs, when most dealers fail to disclose any/all repairs. Our goal is to provide you with the details of the vehicles history so you can buy with confidence here at Kerbeck.
BBB RATING: A+
HOURS OF OPERATION:
Monday-Friday: 9:00AM - 8:00PM
Saturday: 9:00AM - 6:00PM